Every patient is under the care of a radiation oncologist who is a cancer specialist with expertise in the application of radiation therapy as it is used in the management of cancer. In a large program such as ours, the radiation oncologists have particular expertise with specific types of cancer. This ensures that your physician is one who focuses on your specific type of cancer.
Dr. Motwani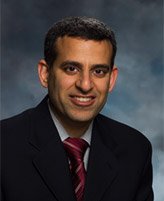 Born and raised in Southern California, I grew up in Irvine, California. I went to UCLA where I received my B.S. in Biochemistry. I then received my medical degree from the University of California, Irvine. Prior to my residency, I completed a two year Stanford and Joan Alexander breast cancer research fellowship in the Department of Radiation Oncology at MD Anderson Cancer Center in Houston, TX.
I returned to the University of California, Irvine to complete my internship in internal medicine. Personalized medicine, cutting-edge research, state-of-the-art equipment, nationally renowned faculty -- these were the reasons I decided to move from Southern California after my internship and train at the Rutgers-Cancer Institute of New Jersey (CINJ)/Robert Wood Johnson Medical School in 2007 and join the faculty thereafter.
I held a joint faculty appointment at Rutgers-CINJ in New Brunswick and Rutgers-New Jersey Medical School in Newark subspecializing as a central nervous system (brain/spine) and genitourinary (prostate, bladder, and testicular) cancer specialist. While at Newark, I also treated breast, lung, GI, lymphoma, and skin cancers. In 2013, I became the Medical Director of Radiation Oncology in Newark.
I have worked closely with surgeons and medical oncologists as part of a multidisciplinary team to educate patients on their treatment options so they can make informed decisions. I am well trained in the advanced techniques of intensity modulated radiation therapy (IMRT), stereotactic body radiotherapy (SBRT), proton therapy, linac based and Gamma Knife Perfexion™ stereotactic radiosurgery (SRS). In early 2017, I treated the 1000th patient at our Gamma Knife Center. My current research interests are developing an extensive brain atlas for radiation oncologists as well as the use of social media impacting oncologic care.
I am an active member of the American Society for Radiation Oncology (ASTRO), the largest radiation oncology society in the world; the American Society of Clinical Oncology (ASCO), the Society of Neuro-Oncology (SNO), and the Radiological Society of North America (RSNA). I have published several papers and presented them at the ASTRO and American Radium Society annual meetings. On behalf of ASTRO I've also made a webinar titled "Radiation Therapy for the Primary Care Provider", which educates all primary care providers about the benefits of radiation therapy and increases awareness about our specialty. I currently review for six radiation oncology peer-reviewed journals including the International Journal of Radiation Oncology Biology Physics, Practical Radiation Oncology, and Advances in Radiation Oncology, the official journals of ASTRO. I am also an Associate Editor for Advances in Radiation Oncology, determining which research should be published. I enjoy teaching and was an active lecturer in the Rutgers-Robert Wood Johnson Medical School Radiation Oncology Residency Program, educating the next generation of radiation oncologists.
After 10 years of training, working, and living on the East Coast, I decided it was time to come home to Southern California (and I was tired of the winters!). I was fortunate to find an opportunity to work with Dr. Lum & Renewed Hope Radiation Oncology and also be close to my family.
When I am not treating patients, I am usually on a plane traveling somewhere or taking a road trip exploring our wonderful state. I enjoy food, whether it's eating out or cooking. My other interests are photography, watching the Lakers play, reading, running 5Ks to half marathons; playing the piano, and spending time with my two nephews.
Clinical Expertise
Central nervous system/brain cancers; genitourinary cancers (prostate/bladder/testicular); breast cancer, Gastrointestinal cancers (esophagus, stomach, pancreatic, rectal, and anal), lung cancer, lymphomas, sarcomas, intensity modulated radiotherapy (IMRT), image guided radiation therapy (IGRT), stereotactic body radiotherapy (SBRT)/stereotactic ablative radiotherapy (SABR); Gamma Knife Perfexion™ stereotactic radiosurgery (SRS)
Honors
Association of Residents in Radiation Oncology Educator of the Year, 2014
Prostate Brachytherapy Fellowship Award, American Brachytherapy Society, 2010
Outstanding Physician Role Model Award, UMDNJ-Robert Wood Johnson Medical School, 2009